Concrete Polishing + Restoration
---
About
Nationwide Concrete Polishing
CPR has you covered in 48 states
We provide you with a "high performance floor design". When we use the word "design", we aren't talking about appearance alone. At CP+R, "design" encompasses longevity, durability, affordable maintenance, life-cycle cost as well as appearance. A polished concrete floor is analogous to a fine-tuned race car or a precision time piece, hand-crafted by a world recognized watch manufacturer. Not only can you have a floor that is aesthetically beautiful, but beyond the exterior beauty is something much deeper and even more substantial; a floor that has been fully tailored for your specific needs that will stand the test of time and it's affordable.
Benefits of Polished Concrete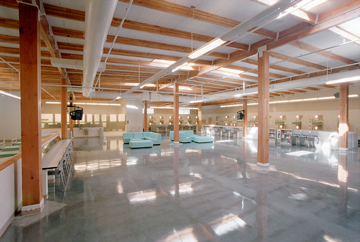 Abrasion Resistance: Up to 400% greater
Impacet Strength: Up to 21% greater
Light Reflectivity: Up to 30% greater
Lowest 10-year life cycle cost
Virtually maintenance free - dust mop, water and a neutral cleaner
No Adverse reaction to ultraviolet light or water spray
Eliminates moisture vapor failures related to floor coverings
Does not support compustion ... eliminates smoke or toxic fumes
Qualifies for inclusion on Silver, Gold and Platinum LEED
Lifecycle Cost
Polished concrete has the LOWEST per square foot life-cycle cost of any floor covering or coating. CP+R Polished Concrete will save you money in both the initial installation, as well as in future maintenance and labor costs.
Contact
2064 Highway 116
Caryville, Tennessee 37714
United States of America